Polishing & Cleaning Gold, Silver, Precious metals, Jewellery & Silverware
Elliot-Fitzpatrick was co-founded in 1986 by traditionally trained silver polishers Reg Elliot and Alan Fitzpatrick, London's Hatton Garden. Since then, we have quickly grown and established a reputation as one of the finest precious metal polishers and platers in the Country.
At Elliot-Fitzpatrick we are passionate about using craftsmanship to bring Jewellery, Gold and Silverware to life. Everything we do is done by hand, using a variety of traditional techniques and processes, this allows us to push the boundaries of what can be achieved.
As every designer and silversmith has their own way of finishing pieces we take the time to understand how they want the finished product to look. Polishing is the final process that really helps transform jewellery and Silverware into the finished item and gives it that wow factor.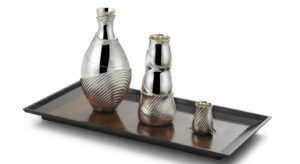 It takes years of practice to understand the process of polishing and how to achieve the best finish and that's exactly what our master craftsmen and women can do. For example, if a piece is flat with sharp edges then after polishing it should still be flat with sharp edges, it takes skill to professionally polish an item without changing what makes it unique.
Since our early days we have been offering our customers a whole range of polishing and finishing services for everything from jewellery and silverware to family heirlooms and everything in between. During the past 15 years we have worked for Royal families all over the world as well as the Royal Household and we have a number of highly skilled and award winning polishers on the team at Elliot-Fitzpatrick.
Some of the services we can carry out include:
Jewellery Polishing and finishing
Matte, Satin and Frosted finishes
Precious metal polishing (Gold, Platinum, Palladium)
Silverware polishing
Cleaning and repolishing of Jewellery and Silverware
Whether the piece is a new design that needs complete finishing and polishing or a treasured item that needs repolishing to bring it back to life, we can help. If you want to find out more about our precious metal polishing and cleaning services get in touch with us today.